NEW TO FORUM - Looking for 1998 Montero(not sport) advice
06-01-2010, 08:24 PM
Join Date: Jun 2010
Posts: 2
NEW TO FORUM - Looking for 1998 Montero(not sport) advice
---
Greetings from Tahoe!
I'm a long time Cross Country 4x4adventure person, do some building and such...mostly I was a Landcruiser guy(many fj40's, 55's & 60's - Currently 2 fj55's), recent Rover guy(County's and 110's - currently 1 County LWB), and am wanting to add to my Montero knowledge and find a truck, as I did have a an early generation once and I loved it.
So, I've been researching the newer Montero's and it seems the one that I really like is a body style that wasn't made very long... is that the case?
I really don't have any interest in the newest ones or the mid 90's either... they just don't have a good look to me. Can I ask for some basic advice and experience on these Montero SUV's...not Sport... that I'm seeing that seem to be only made in '98? What has me interested is the diff.. seems this was Mitsubishi's legit model, and it just happens to have a rad exterior design. Is there a 4x4 group going for modified 98's with this body style?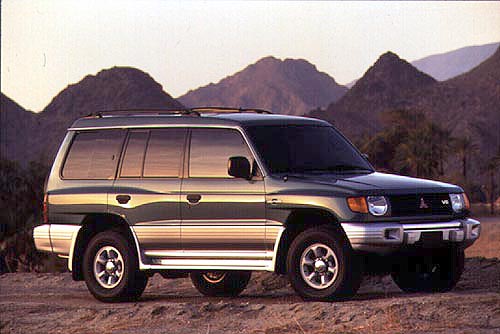 (I'm not really in the crawling crowd, necessarily... I definitely do trail rides and such, but I keep my trucks set up for really functional roadtripping and quite a bit of winter car camping even, and so I've gone for more of a 'safari' style build generally.)
So, I'd like to hear from the vets on here, do many guys out there do some racks, modified bumpers, mellow sport lifts, etc?
I think the most useful info for me right now would be about the suspension options for the '98 Montero
If I buy one, I would want to lift it a couple inches. Not much, relatively speaking. But, probably for something like 33's with 2 inches of clearance minimum. maybe the BFG KO's... or Scorpions. I do a fair amount of welding and am curious about using the Mitsu bumper corner trim mounted on a custom center piece, fab'd up to hold a receiver and some light mounts. Are there ones out there to see? Does the molded running board look better removed? Seems it might look better without it.
I think that's about it. I'm just wondering if I have the right idea that model. Would love to hear a broad description of it from you guys, and any info on it's pro's and con's as a 'expedition' truck.
Thanks!
Shawn Carney
06-02-2010, 02:01 AM
Join Date: Jan 2005
Posts: 362
---
Hi Shawn:

We're in agreement about the attractiveness of that style. My '99 full size is a dead ringer for the photo you posted. I've seen '98's of both types (the one pictured and the older style with stick on flares) I've also seen 2000 models that are identical to the one in your photo and also those that are of the new body style. So '98's and 2000's could be different from what you want but all '99's as far as I know, look like that.

As far as your mod questions, I'm not much help as mine is dead stock and I plan to keep it that way. However, I'm pretty sure that the basic chassis mechanicals were not changed from around 95 thru 99 so any mods that fit earlier trucks should work on yours. Hopefully some experts will chime in.

Ron
06-22-2010, 08:20 PM
Join Date: Jun 2010
Posts: 2
---
Ron, thanks, actually very helpful.. I think I understand that model's basic lifespan better anyway. Very good to know.

I'm still looking into moderate lift options, but for the most part I think I know what I'm looking for now! So, basically, anybody with a '95 through '99ish SR model Montero that's lifted can help if I do find one of the 98/99/00 'SUV' Montero's and decide to lift it.
Thread
Thread Starter
Forum
Replies
Last Post
Mitsubishi Montero & Montero Sport
1998
,
98
,
98s
,
carney
,
forum
,
forums
,
futurescapes
,
mitsubishi
,
modification
,
montero
,
safari
,
set
,
style
,
suspension