1997 Montero Sport Keyfob
03-19-2010, 07:42 PM
Join Date: Mar 2010
Posts: 1
1997 Montero Sport Keyfob
---
Need a little help... i have a 1997 Montero Sport LS. I bought this used and it never came with a remote for keyless entry. i bought one and received in from ebay, something cheap. the instructions on it said to put the car in valet mode by looking for a red LED light/switch underneath the dash and/or to the left of the steering column. well... i cant find this switch. and have searched numerous forums for any other answers before finally posting this up. the questions that i do have is this... 1. do some models not come equipped with the keyless entry? 2. Where is the switch and if i, for some reason dont have one, is there any other way to program this keyfob? Any help would be great as its getting late and i am tired of looking for the valet mode. thanks.
03-20-2010, 02:59 AM
Join Date: Sep 2004
Location: Kuwait
Posts: 183
---
I presume the fob you purchased is OE? The keyless entry control unit is located on the right rear quarter panel of the truck: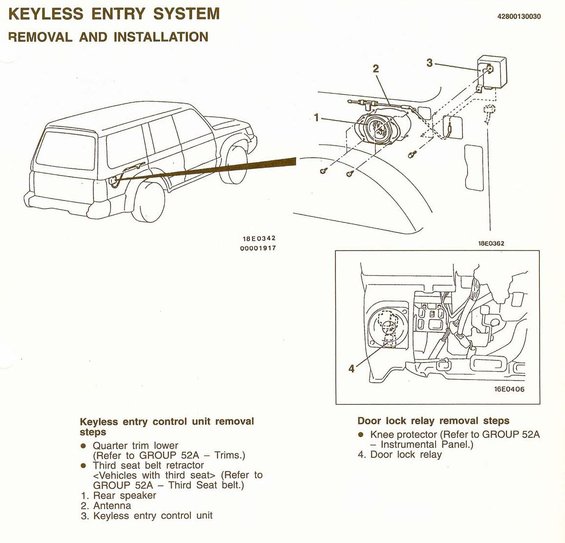 To register your new fob, you will need to set the control unit to SET I (switch is located on the right bottom corner of the control unit), then press either the lock or unlock button on the fob. Move the control unit switch back to FIX and check to see if the fob operates. Hope this helps.
04-15-2014, 01:16 PM
Join Date: Apr 2014
Posts: 13
---
I have the same year vehicle that I just bought. Is the control unit behind the rear panel or is it exposed? Do all 1997 Montero Sports come equipped for keyless system?
Where is the best place to order keyfobs for my vehicle?

Thanks
Jim
Thread
Thread Starter
Forum
Replies
Last Post
Eclipse Frequently Asked Question Section